Creating a stunning display in your dining room hutch is an excellent way to spruce up your home and add a personal touch. Whether you're looking for ways to show off your prized china or want to create a decorative statement piece, there are plenty of ideas to get you inspired. From thoughtful trinkets to vibrant colors, these dining room hutch display ideas are sure to bring out the best in your space.
What Is A Dining Room Hutch?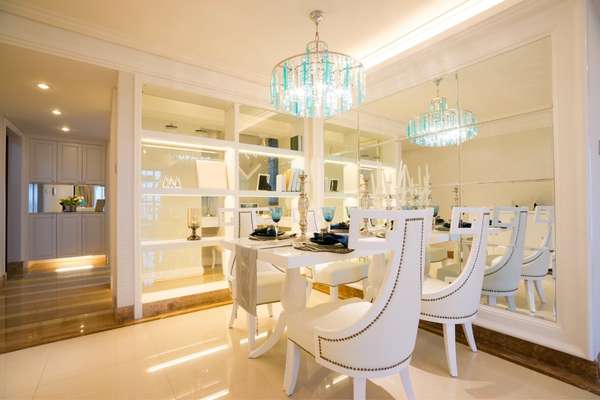 A dining room hutch is a piece of furniture that is typically used to store and display items in the dining area. It usually consists of a cabinet with shelves, drawers, and other compartments, as well as an upper section with glass doors or open shelving. A hutch can be used to store dinnerware and other dining accessories, such as table linens and candles. It can also be used to display decorative items, like framed photographs, vases, or figurines. The top part of the hutch often provides additional storage space for larger items. Dining room hutches come in a variety of styles and materials to suit any decorating theme or budget.
Definition Of A Dining Room Hutch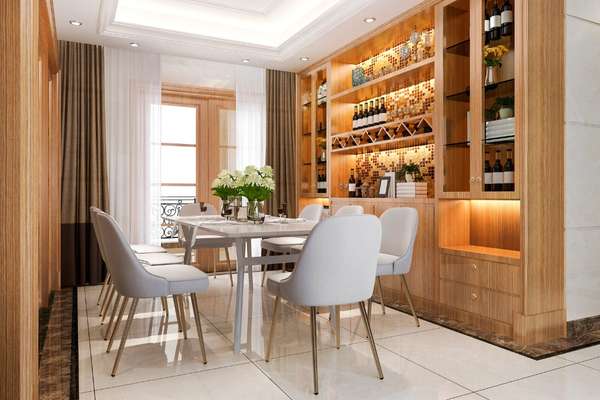 A Dining Room Hutch is a type of storage piece commonly used to display items in dining rooms. It is typically placed against a wall and consists of an upper cabinet with shelves and/or glass doors and drawers, as well as a lower cabinet that may or may not is closed off. A hutch can provide additional storage space for dinnerware, linens, and other dining room essentials while also providing an attractive display area.
When considering Dining Hutch Display Ideas, it's important to think about the types of items you want to show off in your home. Utilizing the shelves of your cabinet to showcase fine china or family heirlooms can add visual interest and personality. If you prefer a more modern look, consider using the shelves to show off colorful dinnerware pieces or interesting artwork pieces instead.
Importance Of Displaying Decorative Items In A Hutch
Decorating a hutch can make all the difference in any dining room. Not only does it provide much-needed storage space, but it also serves as an eye-catching focal point that injects personality and charm into a space. To maximize its decorative potential, consider filling your hutch with carefully chosen items that reflect your unique style.
Firstly, think carefully about what kind of items you'd like to show off. Consider displaying delicate china sets, family heirlooms, or souvenirs from your travels to add character and a personal touch to the display. For an elegant look, use silverware and crystal glasses for an eye-catching centerpiece. Utilizing baskets or trays can also be great for keeping smaller objects organized without overcrowding the shelves.
Importance Of Choosing The Right Display For Your Dining Room Hutch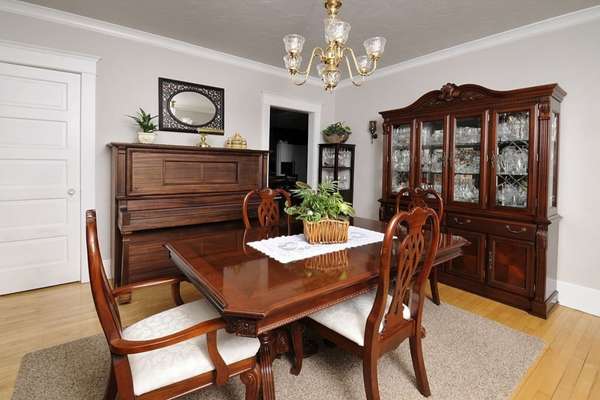 Creating a timeless, elegant dining room can be difficult if you don't have the right display for your hutch. From selection to placement, it is important to choose an eye-catching and practical display that will stand out without detracting from the rest of the décor in your room. With so many options available, understanding how to pick the right one can help ensure a stunning finish.
When selecting your display items, think about choosing ones that complement the overall theme. If you are opting for a traditional look, consider displaying vintage plates or other memorabilia in an attractive pattern on shelves inside of the hutch. For a more contemporary style, modern artwork and sculptures can add character while still staying within the chosen aesthetic.
How To Decor A Dining Room Hutch
Assessing The Space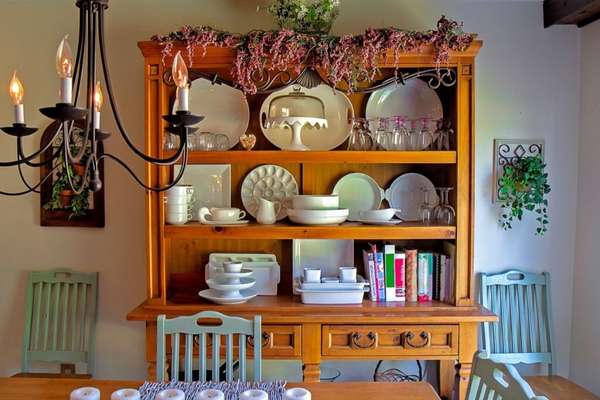 With so many choices in styles, colors, and textures, it is important to take a step back and assess the space before making any big decisions. Here are some tips on how to decorate a dining hutch to make sure you create an inviting yet stylish look.
Start by gathering inspiration from your favorite design magazines or online sources such as Houzz or Pinterest. Take mental notes on what you like such as colors and patterns that appeal to you. Also, consider the existing décor including furniture pieces and artwork when selecting items for your hutch display. Once you have identified some ideas, measure the available space so you know what will fit comfortably in the area.
Selecting Decor Elements
When decorating a dining room, it is important to choose the right elements to create a beautiful, functional space. Choosing decor that fits with the style of the room can be difficult, but there are some simple steps anyone can take to ensure they make the right choices and end up with a stunning display.
First and foremost, determine what kind of style. Do you prefer a modern look or something more traditional? Once you have decided on your preferred design aesthetic, it's time to think about color schemes and accents. Selecting colors that complement one another will help tie together the overall look of your hutch display. Next, consider whether you would like any larger pieces in your arrangement such as vases or statues; these items should be chosen based on size relative to both their surroundings and each other for balance and visual appeal.
Arranging Decor Elements
Many people find that the dining room is the most challenging element. This often-overlooked piece of furniture can be a great source of storage and can also provide an excellent opportunity to display artwork, photos, and other decorative elements.
Begin by cleaning the surface and checking for any repairs that may need to be done on the hutch. Once this is done, use painter's tape to mark off where you want shelves or drawers to maximize storage space. Paint or stain the inside surfaces if desired; this will give your hutch more of a finished look. After all of these steps are completed, you are ready to decorate!
Finishing Touches
The finishing touches are what bring the look together. Adding items to any piece of furniture can turn it into a visual masterpiece.
First, think about how you want to style the shelves and drawers. Do you want to add some colorful items or go for something more subtle? If you decide on colorful accents, choose accessories that contrast with each other so they stand out against one another. You should also consider adding artwork or photographs as part of the theme to create an inviting atmosphere and personalize your space.
For additional decoration on top of your hutch, display books, vases with fresh flowers, or a bowl filled with fruit – something that brings life into your dining room and gives it personality.
Here Are Some Of The Best Dining Room Hutch Displaying Ideas
1. Classic Display
The dining room hutch is an iconic piece of furniture that can be a stunning centerpiece for any home. It's a great space to showcase your favorite items and express your unique style. Creating the perfect display for your hutch can be tricky.
When selecting pieces for your display, think about what style speaks to you. Do you prefer sleek lines and minimalism? Or do bold colors and eclectic shapes draw you in? Whatever catches your eye, use it as inspiration when building out the perfect classic display on top of your hutch. First, start with some basic elements such as vases or sculptures in earthy tones or neutral colors. Consider adding floral decor or greenery too – these elements will bring life into the space while still keeping things timelessly elegant.
Silverware And Serving Pieces
Silverware and Serving Pieces have long been staples in the dining room. Whether it's a formal dinner or a casual gathering, they always add a touch of elegance to any meal. But how do you store these items in the best way? One classic display idea is to place them in a hutch which serves as both functional storage and attractive decor.
To create an eye-catching look, start by filling your hutch shelves with silverware pieces. Arrange them on top of colorful linens for contrast and then use plate stands to separate serving platters from the flatware. Consider adding coordinating dishes too for an extra visual element. Colorful glasses can be placed on the remaining shelves along with any other decorative pieces such as vases or plates that coordinate with the rest. Instantly, your space will have an air of sophistication!
Crystal Glassware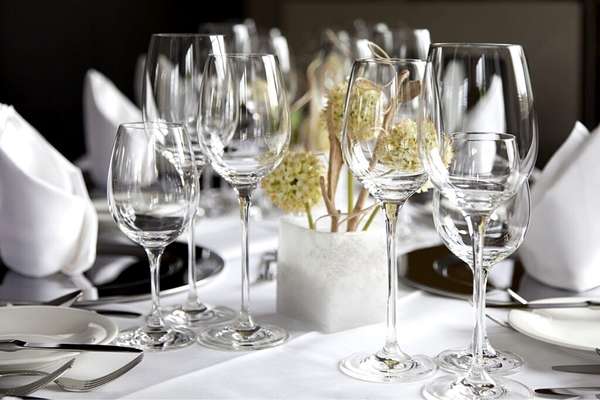 Crystal glassware is a timeless way to display a classic look in your dining room. A hutch is an ideal storage solution for delicate pieces, such as crystal glasses and goblets. If you have the space, consider implementing one of these sophisticated hutch ideas for your home.
A traditional style hutch with multiple open shelves is an excellent option if you want to showcase your collection of crystal ware. For an added decorative touch, opt for a painted finish or add some molding details around the sides. Make sure the shelves are wide enough to fit any taller pieces of glassware you may own, like water pitchers or vases. To complete the look, add some additional accessories like wooden platters and serving spoons along the top shelf.
Table Linens And Napkins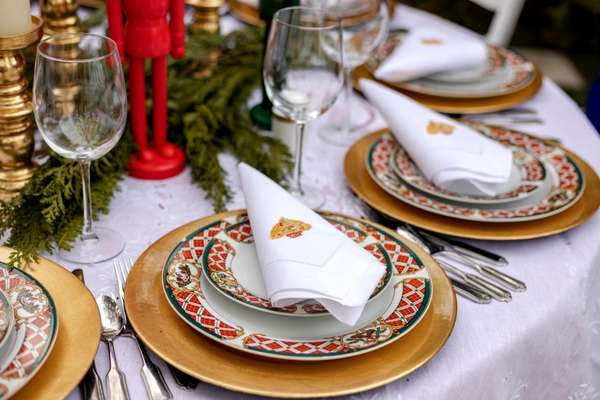 Table linens and napkins can provide a classic display in any dining room. From traditional white linen to fun, printed designs, these accessories can add a beautiful touch of style to your home. An elegant hutch is the perfect storage solution for these items and also offers an ideal spot for displaying them.
Organize the collections by color, type of material, or pattern. Fold each item neatly and arrange them in the center section of the hutch while using the shelves above it to store extra pieces or items that won't fit in other places in your home. For example, you can use a shelf to store seasonal tablecloths or napkins that you don't currently need but will likely use at some point during the year.
2. Artistic Display
It doesn't have to be just a useful storage space; with a few simple ideas and the right materials, it can become an eye-catching display that serves both aesthetic and practical purposes.
From china and crystal to minerals and art objects, there are many ways to turn your dining room hutch into an artistic display. Incorporating elements such as backlighting, shelves, paint accents, shadow boxes, or even fabric swatches can make all the difference in creating an interesting visual presentation. Shelves should also be considered for items you want to keep secure but still visible; this is especially true for keeping heirlooms safe from inquisitive little hands.
Paintings And Wall Art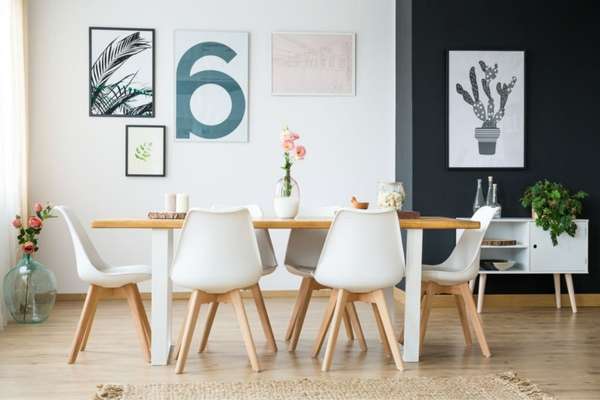 Paintings and wall art can be a great way to create an artistic display in any space, especially the dining room. Many stylish and creative ideas for incorporating artwork into your dining area are sure to make an impact. A modern yet classic look can be achieved by placing paintings or prints around the walls. For those who prefer a more traditional approach, hanging wall art above a hutch is one of the most popular decorating solutions.
A hutch is ideal for displaying artwork because it has multiple shelves which provide plenty of space for different pieces. Whether you prefer abstract, landscape, or portrait paintings, they can all be showcased on the shelves as part of an eye-catching vignette.
Sculptures And Decorative Objects
When it comes to artistic displays, sculptures, and decorative objects can be the perfect choice for any home. They add a unique flair that stands out from traditional wall art or photos. Whether you're looking for a centerpiece in your living room or an accent, there are plenty of options to choose from.
Sculptures come in many different styles, so you have the freedom to find something that best fits your decorating style. For example, bronze sculptures look sophisticated and regal; whereas ceramic sculptures can bring a more whimsical feel to a space. Decorative objects such as vases, figurines, and trinket boxes are also great choices when it comes to adding character and interest to your display pieces.
Photo Frames And Family Portraits
Photo frames and family portraits are an ideal way to add a personal touch to any home. Whether you're looking for a unique way to display photos of your loved ones or want to showcase artwork from different times in your life, photo frames offer an artistic and creative way to do so.
For those seeking creative ways to incorporate the look of photo frames into their home decor, consider placing them on a dining room hutch. This timeless piece of furniture offers plenty of space for both large and small photo frame displays. Whether it's a gallery wall filled with family portraits or a single frame hung above the hutch, this type of display will create an inviting atmosphere while also adding visual interest and texture to the room. Placing framed photos on shelves is another great option that allows you to switch out different memories as time passes.
Antique Pieces And Collectibles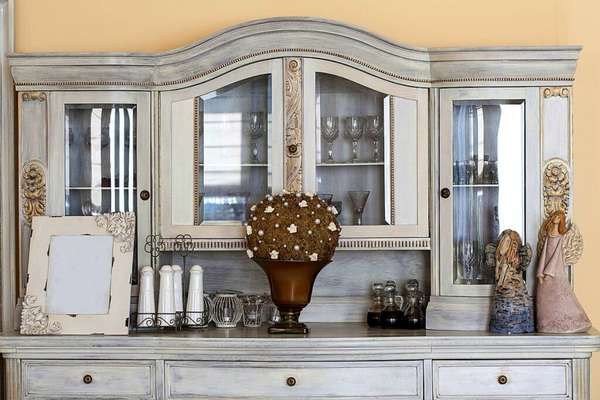 Antique pieces and collectibles can add a sense of style, charm, and character to any home. As the trend for displaying vintage items in the home continues to grow in popularity, those looking to showcase their prized possessions must do so with an eye for artistic display.
One way to bring a unique touch into your dining room is by incorporating antique pieces into hutch displays. Whether you choose to arrange china plates or ornamental figurines, taking the time to carefully craft a display can be as enjoyable as it is rewarding. Consider playing with color schemes and creating multi-level visual interest by mixing various sizes of items on shelves and other elevated surfaces. In addition, think about accessorizing with natural elements such as wood carvings or flower arrangements for added texture and contrast.
3. Nature-Inspired Display
Creating a visually striking display in the dining room can be a difficult task. However, with nature-inspired hutch displays, homeowners can add an air of sophistication to the dining space.
To begin, consider utilizing natural elements such as stones or driftwood when creating a hutch display. These items will provide texture and visual interest to any setting while also providing an earthy backdrop for more delicate items like glassware or china. Additionally, flowers and plants are excellent additions to this type of display. Both real and artificial greenery will fill up empty spaces on shelves while also introducing color into the environment without taking away from other pieces in the collection.
Plants And Flowers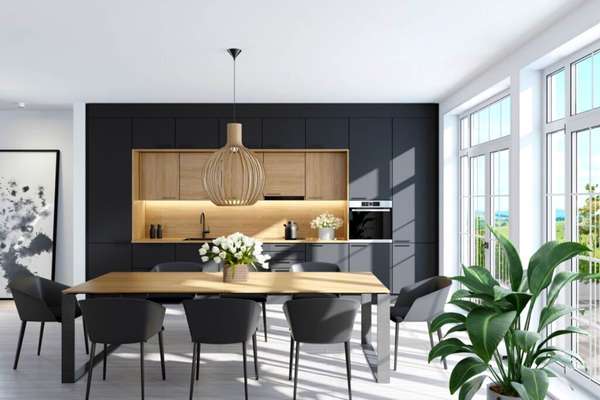 A nature-inspired display for a dining room hutch is an easy way to add color and texture to the space. Whether you're a plant enthusiast or just looking for something simple yet beautiful, plants and flowers can be used in creative ways to bring life into your home.
If you are looking for inspiring ideas, then look no further! Here, we provide several examples of how plants and flowers can create a beautiful, nature-inspired display hutch. From bold succulent arrangements to artificial flower bouquets, there is sure to be an idea here that suits your style and décor preferences. With these ideas, you can easily transform a dull hutch into one filled with vibrant colors and textures that will make any room feel alive.
Shell Collections And Beach-Inspired Decor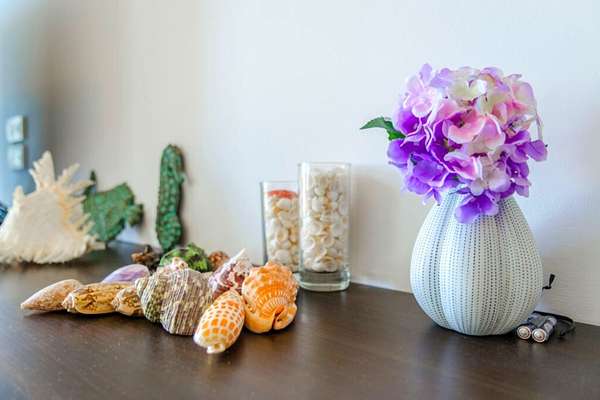 Shell collections are a great way to add a touch of nature-inspired decor to any room in the house. If you're looking for beach-inspired decor ideas, consider adding some shells to your dining room hutch. It's an easy way to bring the outside in and will instantly create a coastal feel. A shell collection on your hutch will not only look aesthetically pleasing but can also be used as functional storage pieces too. Whether it's displaying books or serving dishes, this natural display is both stylish and practical.
If you want to go all out with your beachy theme, use the shells as part of a decorative display around the edges of the hutch or even place them inside glass jars for an added touch of texture.
Natural Wood Elements
Bring nature into your dining room with a natural wood hutch. This nature-inspired display piece is the perfect way to add some rustic charm to your living space. Whether it's an antique piece or a modern design, these unique hutch ideas will help you create an inviting. Cozy atmosphere in your dining room. Consider using reclaimed wood for an extra eco-friendly touch, or choose. A variety of woods and textures to create a one-of-a-kind look that reflects your style.
Birds And Birds Nests
A bird nest-themed hutch is an excellent way to add a touch of whimsy and serenity to your home. Incorporate natural materials like wood, twigs, grasses, and moss into the design for an authentic effect. Add a few small feathered friends crafted from clay or paper mache perched atop various branches to bring the whole look together. Or, if you're feeling ambitious enough, pick up some faux feathers and craft your life-like birds! The possibilities are endless when it comes to bringing this nature-inspired design concept into your space.
4. Seasonal And Holiday Displays
Seasonal and holiday decorations bring a special touch of joy to the home. From dressing up the mantel to displaying bright colors on tabletops, there are numerous ways to decorate for each season. One of the most popular areas in which to add seasonal flair is on dining room hutches. These furniture pieces often provide an ideal backdrop for creating unique and eye-catching displays that will last throughout each season or holiday.
For nature-inspired decorators in search of unique dining room hutch ideas. Look no further than the majestic birds that inhabit our skies. From delicate finches to powerful eagles, these avian creatures provide a wealth of inspiration for creating. A stunning display piece in any home.
For starters, utilize colors that correspond with current seasons or holidays such as red, white, and green for Christmas; shades of browns and oranges during autumn; light blues and yellows during springtime; etc.
Christmas Ornaments And Decorations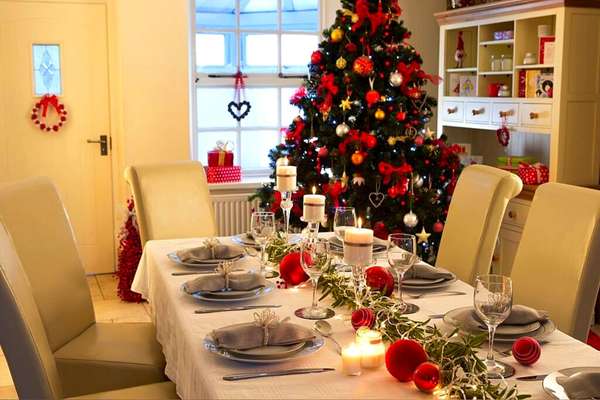 Decorating your home for the holiday season is an exciting and fun activity. With the holidays quickly approaching, it's time to start thinking about how you want to decorate your dining room hutch display. Christmas ornaments and decorations are a great way to get into the festive spirit of things.
When it comes to creating a beautiful holiday atmosphere. There are plenty of creative ways to spruce up your hutch display with Christmas-themed decorations. From hanging garlands and ornaments from the edges of the hutch to placing festive figurines on top. There are numerous options available when it comes to transforming your space into a winter wonderland. Stringing lights around each shelf can also add a special touch that will bring your hutch display alive during this special time of year.
Easter Eggs And Spring Flowers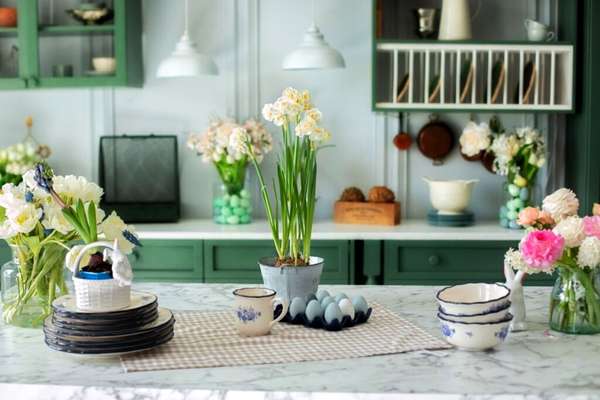 It's springtime and the perfect time to get creative with your Easter and springtime decorating. Whether you're looking to display some colorful flowers or create a festive Easter egg hunt.
From painting eggs in bright colors and arranging them on a tray to creating a rustic tree branch centerpiece filled with colorful blooms, there are many ideas for transforming your hutch into a cheerful focal point. You can also hang wreaths from the top or sides of the hutch for added visual interest. Another way to liven up the space is by adding small decorative accents such as flower vases, candles, birdhouses, and figurines. These accents can be arranged around any Easter eggs or floral arrangements that you've chosen for your display.
Fall Leaves And Pumpkins
Fall is a beautiful and exciting time of year. Not only do we get to experience cooler weather, but the changing leaves and abundance of pumpkins make it a very festive season. If you're looking for unique ways to bring autumn into your home, consider utilizing your dining room hutch display for inspiration. Here are some creative ideas that will liven up any area and put you in an autumn state of mind.
Start by incorporating natural elements like leaves and pinecones into the hutch design. Place them all around the shelves to add an extra layer of texture to the space, or even use them as part of a centerpiece on the table below. You can also use small pumpkins or gourds in various sizes throughout the hutch display for added seasonal flair.
Summer Beach And Vacation Items
Summertime is the perfect time for a beach vacation and with that comes. The need to prepare your home for the change of season. One great way to spruce up your dining room decor is by incorporating a hutch display. A hutch display offers both style and function, allowing you to showcase favorite items while also providing extra storage space. 
There are many creative ways to design your hutch display and make it an eye-catching feature. Utilize open shelving or glass doors if you have fragile items such as china or pottery that require extra care. Showcase summery beach items such as starfish, sea shells, sand dollars, and coral pieces in colorful glass containers. On top of the hutch or nestle them into basket displays within shelves.
5. Modern Display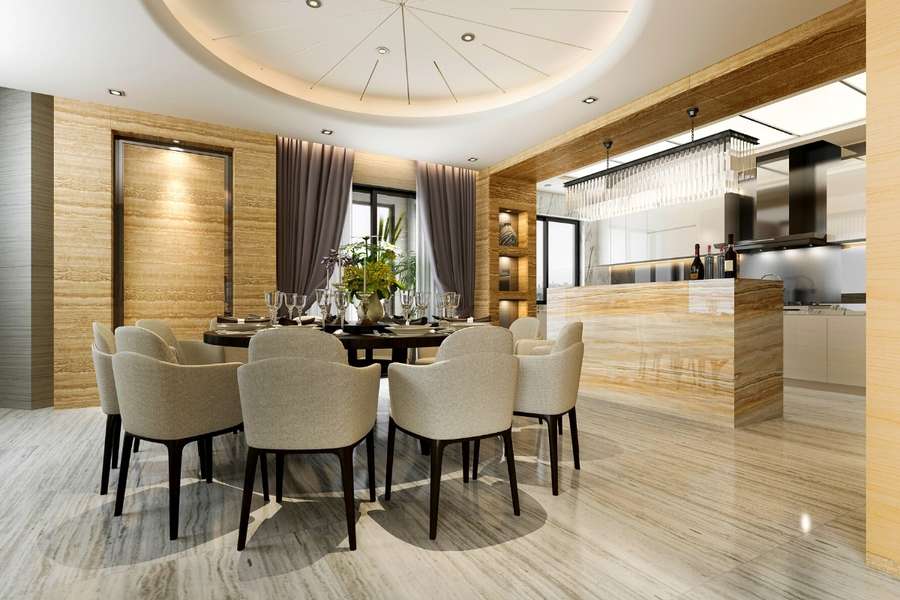 Modernizing your dining room hutch display can be a simple way to instantly brighten and add interest to the atmosphere of your home. Whether you're looking for a dramatic and eye-catching statement piece, or something more subtle that adds texture.
To start, consider using metallic elements in your hutch display; golds, silvers, and coppers can all create a sophisticated yet contemporary feel. Items such as antique silverware or colored glassware will catch the light wonderfully when arranged with plenty of space between pieces. Alternatively, think about incorporating natural elements into your display such as dried flowers or branches for a rustic touch. This allows you to incorporate pops of color while remaining on-trend with current interior design styles.
Abstract Art And Geometric Shapes
Modern display hutch displays are a great way to showcase abstract art and geometric shapes. With the right combination of pieces, you can create an eye-catching arrangement that highlights your favorite pieces while also creating a pleasant aesthetic. Abstract art and geometric shapes provide visual interest to any room and can be used in traditional or modern spaces.
When picking out artwork for your display hutch, try grouping together different sizes, colors, and textures. Hang large prints on the wall to draw attention towards them while smaller artworks can be placed on the shelves or cabinets. Choosing vibrant colors for your artwork will bring life into the space while monochromatic tones offer a subtle elegance. Mixing materials like metal or wood with canvas or paper adds an interesting juxtaposition that complements any style of furniture in your home.
Modern Dinnerware And Serve Ware
Modern dinnerware and serve ware can be both functional and stylish. If you're looking for ways to display your dinnerware in an attractive and modern way, a hutch is an excellent choice. Not only can it provide plenty of storage space, but it also creates a visual impact with its spaciousness and unique design.
There are several modern display hutch ideas perfect for displaying dinnerware or serving ware collections. A glass-fronted hutch is a perfect platform to showcase your china or stoneware pieces as the shelves will be illuminated with natural light during daylight hours as well as adding visual appeal when lit at night. To add extra flair, consider adding accents such as colorful linens or decorative vases to the top of the hutch.
Bold Colors And Patterns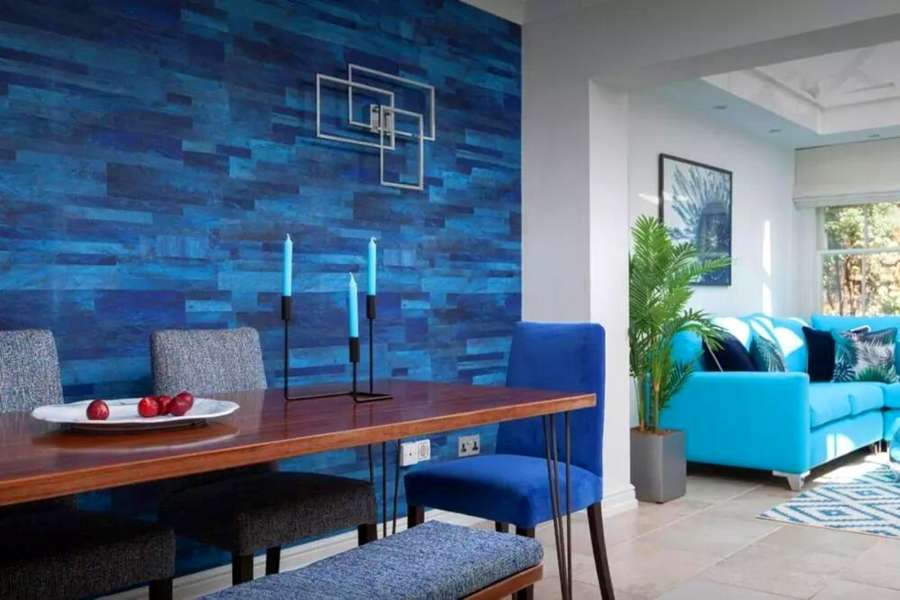 Bright and bold colors and patterns are a great way to make a statement in any room of the house. Whether you're looking for an eye-catching feature or to add an element of modern design. A display hutch can be the perfect solution. If you're looking for great ways to showcase your favorite items.
A bright color scheme is the perfect way to make your hutch stand out. Consider pairing bold color blocks with contrasting patterns such as stripes or polka dots for an eye-catching look. You could also opt for a more subtle approach by adding just two complementary colors to achieve a more balanced effect. Don't forget about texture either – matt, glossy, velvet, and metallic finishes all work together beautifully when used wisely.
Clean Lines And Minimalistic Decor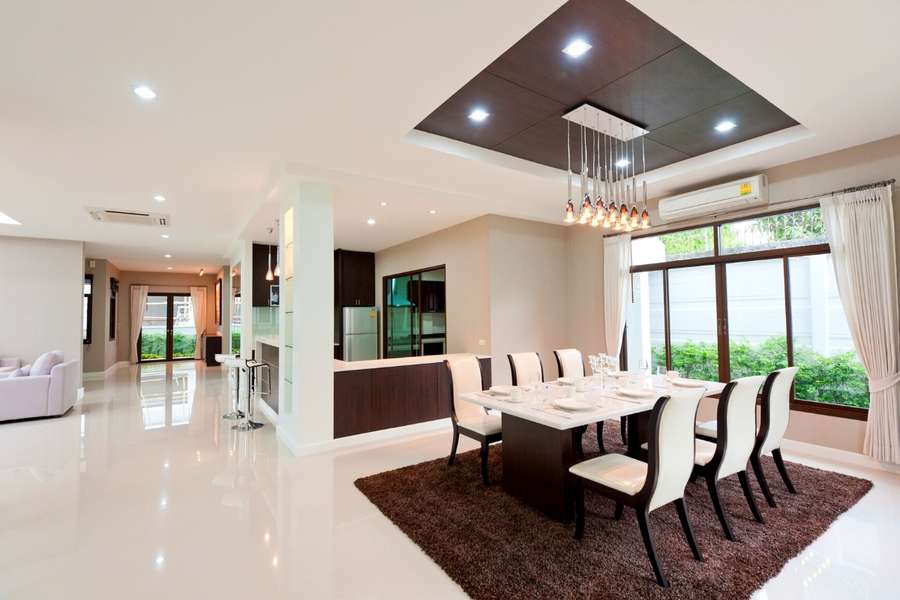 Clean lines and minimalistic decor are the perfect way to create a modern look for your home. Adding a display hutch to the mix is an excellent way to showcase items without adding clutter or taking away from the modern look you're trying to achieve. This article will explore some unique display hutch ideas that can elevate any living space with ease.
A modern display hutch can be used in many different ways, depending on how much storage space you need. If your goal is more of a minimalist look. Consider adding shelves or drawers for smaller items like books and trinkets. You could also choose a glass-fronted piece with adjustable shelves so that it's easier to see what's stored inside while still maintaining its sleek appearance.
6. Consistent Color Palette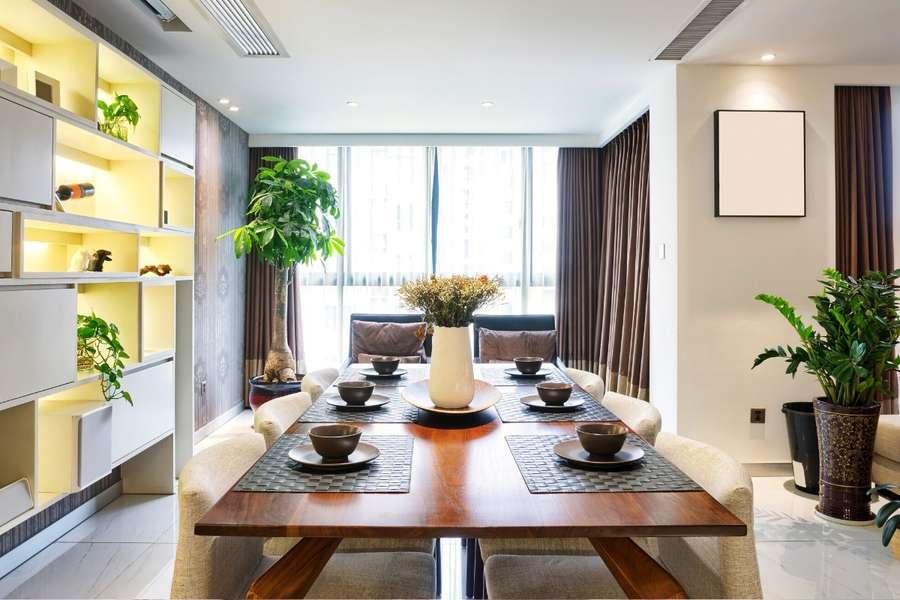 When it comes to decorating a dining room hutch, consistent color palettes can be key to creating a cohesive and inviting look. Color consistency helps maintain the natural flow of the dining area while also making the space feel more organized. A well-thought-out color palette should be considered when styling any kind of display within a hutch. 
To achieve a consistent and visually pleasing look. Start by establishing your main color scheme for the entire dining area first. From there, try to use variations of that same palette for different sections in your hutch display. For example, if you choose neutral blues and greens as your base. For colors try incorporating various shades or patterns for each shelf or drawer in your hutch. This will bring dimension to each item displayed and make it. Stand out from other elements in the room without feeling too overwhelmed.
7. Style The Eye Level Shelf First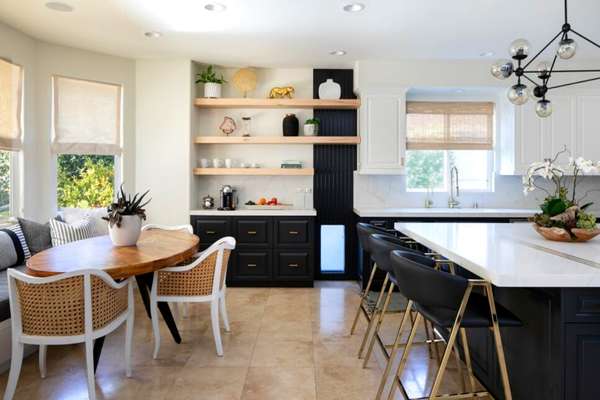 Creating a beautiful display doesn't have to be intimidating! Start by styling the eye-level shelf first and then move up or down. This easy method will help create balance in your display while showcasing favorite items.
The eye-level shelf is one of the most important aspects of any hutch display. It is typically seen first, so it's essential to make sure. This shelf has plenty of visual appeal with carefully chosen pieces. A good rule of thumb is to mix shapes, sizes, and textures for an interesting yet balanced look. An array of framed photographs can be used as a backdrop for candles. Vases, books, and other decorative items are arranged on top. Placing taller objects at the back also helps provide depth and interest to your design.
8. Keep It Balanced
A balanced display in your dining room hutch is not. Only aesthetically pleasing but also a great way to show off your style. Whether you're looking for a modern, eclectic, or classic look – the options are infinite.
Start with a focal point. This could be an antique vase or framed artwork – something that will draw the viewer's eye upon entering the room. Then layer different heights of vases, bowls, urns, and sculptures throughout. The shelves of the hutch create texture and interest. Add in books and magazines for extra color and dimension. Finally, place small items like candles and figurines around to fill any empty spaces and complete the look.
The Final Thought
In conclusion, the dining room hutch is a great way to show off your style. While also adding additional storage space. With the right display ideas, you can make this piece of furniture a focal point in the room. By utilizing objects like antique pieces, vases, and photos. You can create a unique and attractive display that will bring. A touch of warmth and personality to your dining area. Remember that it is important to keep the display balanced and not overcrowd the hutch with too many items.