Are you looking for ideas to revamp your dining room? Table tops are a great way to instantly upgrade any space. The many designs, materials, and colors available make it easy to find the perfect tabletop for any dining room. Finding the right one can be a challenge though! This article aims to provide insight into some of the most popular dining room table tops ideas available today.
What Are The Dining Room Table Tops?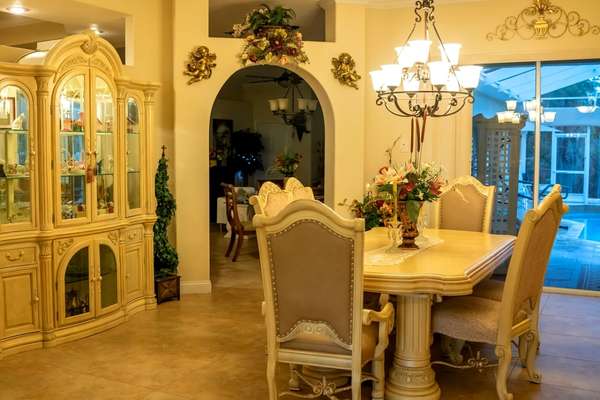 Dining room table tops are the surface of a dining table that uses for eating meals. They come in a variety of materials, shapes, and sizes to accommodate different needs and styles. Popular materials for dining include wood, glass, stone, metal, and plastic.
Wood is the most common material for dining tables because it is sturdy and can easily customize with stains or paint to match any decor. Glass table tops provide an elegant look and can use with traditional or modern furniture. A stone such as marble or granite adds a luxurious touch to any space while metal tops are great for industrial-style spaces. Finally, plastic is a great option if you want something lightweight and easy to clean.
No matter what material you choose for your dining room table top. Make sure it complements the overall design of your home. Consider factors such as size, shape, color, texture, and functionality when selecting the perfect top for your space.
Importance of choosing the right dining room table tops
Choosing the right dining table top is an important decision for any homeowner. The right table top can set the tone of a room and help to create a comfortable, inviting atmosphere for entertaining friends and family. With so many options available on the market today. Picking out a tabletop to fit your specific needs and budget can be overwhelming.
When it comes to selecting the perfect table top for your dining room. There are many factors to consider including size, shape, material, style, and cost. Taking these aspects into consideration can help you find a piece that fits in with your existing décor while also providing years of durability and beauty. Popular materials range from natural woods such as walnut or oak to modern laminates or even metal tops with glass inserts.
How to select suitable Dining Room Table Tops
Selecting the right dining table top is an important decision as it will be a focal point in your home. The first step is to determine the size of the tabletop that you need. Measure the space where you plan to place the table and make sure to leave enough room for people to move around comfortably.
Once you have determined the size, consider what type of material would work best for your lifestyle. For instance, if you have a family with young children, a durable material like granite or quartz might be best. If you entertain frequently, a wood top may be more suitable since it can easily refinish if needed.
Finally, consider the style of your home when selecting a tabletop. If you have a modern home, glass or metal may work well; whereas traditional homes may look better with wood or stone tops.
1. Measure the size of the room
When selecting a dining room table top, it is essential to measure the size of the room. The size of the space will help determine how big or small your table should be. A professional interior designer can take accurate measurements and suggest the right-sized table for you.
Before visiting a furniture store, measure the length, width, and height of your dining area. Pay special attention to doorways and other obstacles that could prevent a large piece from entering your room. If you have an existing table in place, use this measurement as a guideline when shopping for its replacement. Additionally, consider how much space must be left around each side of the table to allow people to get up and sit down comfortably without bumping into walls or furniture pieces nearby.
2. Measure the size of the space where the table top will be placed
Choosing the right dining table top is essential to make sure you pick the right size for your space. To select a suitable tabletop, it's important to measure the space where you'll be placing it. This will help you determine which dimensions of dining room tables will fit in that area best.
When measuring the space, make sure to factor in enough room around all sides of the table. So people can freely move around and sit comfortably at the table. Consider how many people need to seat, as this will help determine what size tabletop is necessary. It's also helpful to take into account existing furniture and decorations in the area so that everything fits well together. Aesthetically when selecting a dining room table top. With careful measurements and careful consideration.
3. Select the right Shape
Selecting the right dining room table top is essential to decorating your home. It can be a daunting task due to the variety of shapes and sizes available. But if you take into account the size of your room, and the design style you prefer. As well as how many people it needs to seat, then selecting your ideal table is possible.
When deciding on a shape for your room table top, keep in mind that square or rectangular tables are best suited for larger rooms while round or oval tables work better in smaller spaces. Additionally, more elaborate shapes such as octagons or irregularly shaped tops can help create visual interest in any space and add character to a room's décor.
4. Select the perfect materials
When it comes to selecting the perfect materials for table tops. There are an array of factors that must be taken into consideration. For starters, you need to decide what type of material is suitable for the dining room and its overall aesthetic. Materials such as lacquered wood, glass, and marble can all bring a touch of sophistication while also being incredibly durable.
When selecting the best materials for your tabletop, first consider its primary purpose. Will it use mainly for serving meals or simply to display décor? Then think about whether you'd like a glossy or matte finish. Those looking for a classic style might opt for wood with a glossy lacquer coating that offers durability and easy cleaning. Whereas those after understated elegance might prefer marble which can polish to create a beautiful sheen.
Here are 12 dining Room Table Tops Ideas
1. Wooden Dining Table Tops
The dining room is a central part of the home. It's important to choose furniture that fits in with the décor and style. Wooden dining table tops offer an elegant and timeless look that can blend in with any home. Whether you want a sleek contemporary design or a classic traditional look.
When selecting a wooden dining table top, consider how much use the surface will get. An oak veneer top is perfect for everyday use while solid hardwood such as cherry or walnut may be better suited for special occasions or formal settings. To create an eye-catching effect, opt for contrasting tones between the base and top of your table. Dark wood paired with lighter shades gives a modern twist to traditional designs. You could even add glass inserts into your wooden tabletop for added style appeal.
Solid Wood
When it comes to selecting the perfect dining table top, solid wood is one of the most popular and attractive choices. Solid wood is durable, attractive, and timeless—a great material for setting a classic or modern mood in any home. Solid wood table tops can also be stained and finished with an array of colors to match any décor.
The choice of which type of solid wood to select is varied, ranging from softwoods such as pine and cedar to hardwoods like walnut and oak. The type chosen should depend upon what kind of finish will best suit the intended purpose. Softwoods are easier to work with but less durable than hardwoods. Another factor to consider when choosing a solid wood top is the grain pattern. Some woods have very prominent grain patterns which may need additional finishing depending on the look you're going for.
Engineered Wood
Engineered wood is becoming an increasingly popular material for dining room table tops as it offers a range of furniture design options. As well as being a strong and durable material. Whether you are looking to put an elegant spin on your traditional farmhouse look or create something more modern and minimalist. Engineered wood can easily accommodate any style.
This versatile material is composed of multiple layers that have been adhered together to form one solid board. The core layer is made from softwood while the upper layers are created from hardwood veneers offering both strength and stability. Engineered wood also provides greater resistance to warping when compared with its solid wood counterparts. Making it ideal for damp environments such as the kitchen or dining.
Reclaimed Wood
Reclaimed wood is an excellent resource for creating unique, one-of-a-kind dining room table tops. Not only does reclaimed wood look great, but it can also bring a touch of character and history to your home. With the right preparation, you can transform your dining space into a classic yet modern area that will be the envy of all who enter.
When used in a dining room tabletop design, reclaimed wood can help create a timeless aesthetic that will stand the test of time. It's important to properly treat and prepare the wood before using it as part of your decorating scheme. However, this extra effort is well worth it when you see how beautiful and charming your finished product looks. If you want to add warmth and texture to your home without sacrificing style or elegance, consider using reclaimed wood for your next project.
Distressed Wood
Reclaimed wood is an excellent resource for creating unique, one-of-a-kind tops. Not only does reclaimed wood look great, but it can also bring a touch of character and history to your home. With the right preparation, you can transform your dining space into a classic yet modern area that will be the envy of all who enter.
When used in a dining tabletop design, reclaimed wood can help create a timeless aesthetic that will stand the test of time. It's important to properly treat and prepare the wood before using it as part of your decorating scheme. However, this extra effort is well worth it when you see how beautiful and charming your finished product looks. If you want to add warmth and texture to your home without sacrificing style or elegance, consider using reclaimed wood for your next project.
2. Glass Dining Table Tops
When it comes to sprucing up your dining room decor, glass dining table tops are a stylish and elegant choice. Not only do these pieces add a contemporary feel to any space, but they also bring modern functionality and convenience to the table. Whether you're looking for an intimate dinner for two or need extra seating for family gatherings. Glass is a timeless option that can seamlessly blend into any décor style.
One of the standout features of glass dining tables is their versatility. They come in many shapes, sizes, and styles so you can find one that fits perfectly with your existing pieces. Additionally, this type of furniture typically requires minimal maintenance due to its strong durability. Keeping it clean is easy with just some warm water and mild soap.
3. Marble Dining Table Tops
A marble dining table top is an elegant and timeless choice for any dining room. It adds sophistication, class, and style to the space – all with the beautiful luster of marble. Whether your style is traditional or modern, you can find a variety of marble dining table tops in different colors and finishes to fit your desired look.
When selecting a marble dining table top, it's important to consider the existing aesthetic of the room. A darker-colored marble such as black or charcoal can create a dramatic focal point in any space while lighter colors such as white or cream bring brightness and airiness. Additionally, you can choose from sleek polished finishes or more textured matte looks depending on your desired effect. Each type has unique characteristics that make it perfect for special occasions like dinner parties or everyday meals with family and friends.
4. Stone Table Tops
Whether you opt for natural stone, engineered quartz, or polished marble, these elegant materials will make your dining the centerpiece of your home.
The beauty of a stone is that it can easily customize to fit any decor style. Natural stones like granite and limestone offer a rustic look perfect for traditional spaces while engineered quartz offers versatility and safety with its non-porous surface. For a more modern feel, polished marble adds just the right touch of sophistication and elegance to any dining area. Additionally, stone table tops provide durability and resistance against scratches or other damage from daily use making it an ideal material for families with small children or pets.
5. Metal Table Tops
Metal table tops are an increasingly popular choice for dining room tables. Homeowners love metal because it is a durable material that can last for decades and withstand heavy use.
When choosing the right metal table top for your dining room, consider the size of the room and how much space you have available. A larger metal top will add a dramatic look to your space but may be too large if you have a limited floor area. If your dining has plenty of open space, consider installing an extra-large metal top that can accommodate multiple guests at once. Additionally, choose a finish and color that complements or contrasts with other elements in the room such as chairs, walls, or cabinets.
6. Glass and Wood
Glass table tops provide a sleek and modern look while also being easy to clean; they come in a variety of styles, shapes, and sizes making them perfect for use in any dining room. On the other hand, wood tables have a warm and classic aesthetic that never goes out of style; additionally, many wooden tables come with expandable leaves so you can easily adjust the size depending on your needs.
When selecting which material is best for your dining table top, consider what will match your existing décor as well as how much space is available; both glass and wood offer great options sure to leave you satisfied.
7. Wood and Resin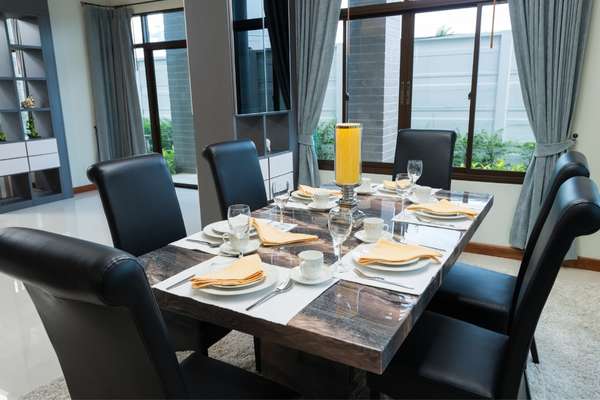 However, for those wanting something unique and truly one-of-a-kind, wood and resin are excellent choices. This combination of materials creates beautifully marbled patterns that cannot be with any other material.
These stunning pieces showcase the best of both worlds: deep earthy tones from the wood and a glossy finish from the resin. The contrast between these two elements creates an eye-catching centerpiece in any room. Depending on the type of wood used, each design is unique with its swirls and knots; no two tables will ever look exactly alike! Additionally, such pieces can customize to fit any existing interior décor style or color scheme.
8. Tile Table Tops
Tile table tops are a great way to add an interesting, stylish touch to any dining room. One of the most popular tile dining tabletop ideas is to use ceramic tiles that feature intricate patterns or mosaics. The flexibility of ceramic tiles allows homeowners the opportunity to create a unique look that is sure to be a conversation starter at parties and family gatherings.
For those who want something with more than just visual appeal, many tile tabletop ideas incorporate glass tiles. Glass tiles can be used as an accent in various designs, allowing for different textures and hues that could work well in any home decor. Additionally, glass tile can be easily cleaned since it has a non-porous surface which prevents dirt from getting trapped between the cracks in the grout lines. Furthermore, sealing glass tile will provide an added layer of protection against spills or messes which could damage the underlying materials.
9. Unusual Dining Table Tops
When it comes to designing the perfect dining room, table tops can make a big difference. If you are looking for something unique and out of the ordinary, there are plenty of unique options available to bring your vision to life. From modern glass tops to classic wooden surfaces.
For those who enjoy modern decor, glass is always an excellent choice for a dining table top. Many different styles of glass tables feature intricate designs or brightly colored accents for added visual interest. Not only does glass look stunning when lit from above, but it's also easy to clean and maintain. For homeowners who want something more timeless, wood is still an extremely popular option that looks great in both traditional and contemporary spaces alike.
10. Different-shaped
When it comes to decorating the dining room, the tabletop is one of the most important elements. With so many different shapes and sizes available, it can be difficult to choose a table top that fits your needs. Whether you're looking for something rectangular or round, there are plenty of dining room table tops ideas to help make your decision easier.
For a classic look, round and square table tops are always popular options. Round tables come in an array of sizes while square tables offer more seating options due to their four sides. They also work best in smaller spaces as they allow multiple chairs to fit around them easily while still keeping an open feel. For larger spaces, oval or rectangular tabletops provide ample seating with less clutter than a traditional round shape would provide.
Here are some ideas
Round
Round dining tables are a great way to bring an air of sophistication and style to any home. If you're looking for something unique, consider choosing a round dining table with a differently-shaped tabletop. Whether it's oval or octagonal, a round table can be dressed up to create the perfect focal point for your dining room.
Rectangular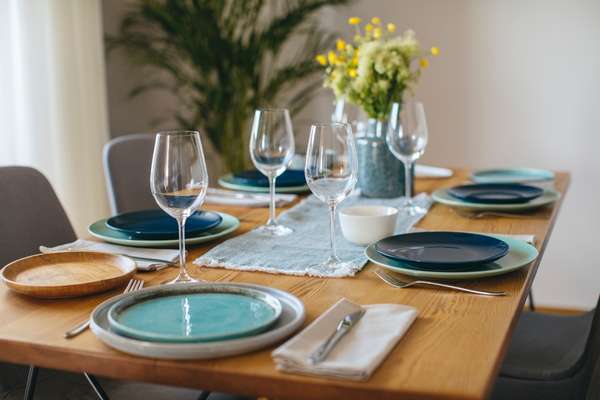 When it comes to furnishing a dining room, there are several different-shaped dining table tops to choose from. Rectangular-shaped tables offer a classic look that is perfect for small and large spaces alike. Rectangular tables come in an array of sizes and shapes, allowing homeowners to select the one that best fits their space and decorating style.
Rectangular tables are ideal for intimate gatherings or larger family events as they can accommodate up to ten people comfortably. Depending on the size chosen, these tables may also be able to fit additional chairs around them if necessary. Furthermore, rectangular-shaped tables are versatile enough to be placed against walls or used in the center of the room. This makes them useful for both formal dinners and casual weeknight meals alike.
Square
A square-shaped dining table top is a stylish, modern addition to any home. With its clean lines and simple design, it can help to create an elegant feel while providing plenty of space for family meals. With the right materials and finishes, this type of table top can be highly unique and provide plenty of options in terms of different shapes.
11. Modern Dining Tops
Modern dining tables are more than just a place to eat; they are an important part of home décor. Table tops are the focal point of the dining room and can be used to add style and elegance to any interior space. With so many dining tabletop ideas available, it can be difficult to decide what is best for your home.
When considering modern dining tops, homeowners should take into account their existing décor and design scheme. Sleek glass or marble table tops create a chic contemporary look, while wood surfaces provide warmth and texture. Natural stone countertops also offer a bold statement while being functional at the same time. Additionally, consider adding color with painted wooden or lacquered surfaces in vibrant hues such as red and navy blue for a truly unique look that stands out from the crowd.
12. Diy Dining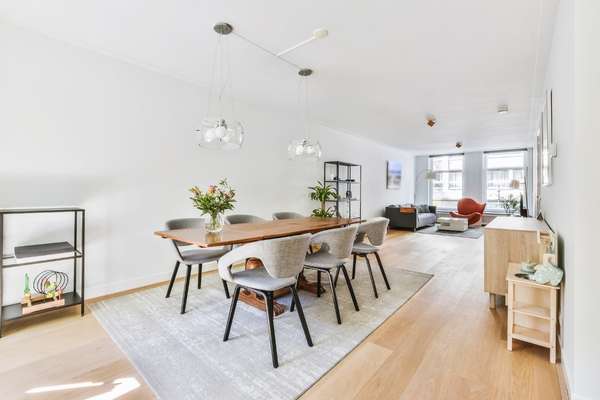 If you are looking for creative new ideas to give your dining room a fresh look, then DIY dining tops could be the perfect solution. They can easily be customized to fit existing furniture and ultimately create a unique design that reflects your style. With just a few simple steps you can transform your dining space into something truly impressive.
There are several ways to approach this project, from painting and staining the top surface of an old table or purchasing pre-made wooden pieces which can then be stained or painted in any color of your choice. You may also decide to go with something completely different such as mosaic tiles, cut glass, fabric, or even paper creations like decoupage or origami designs. The possibilities are endless and it's up to you to choose what works best for your space!
Pros and Cons of Different Table Tops
Wooden tables are a classic option that offers both style and durability. These types of tables can be customized in terms of size, shape, color, and design to fit any space perfectly. Although they're less prone to scratches and dents than other materials, wooden tables require regular maintenance to keep their luster intact over time.
Glass or acrylic tabletops can give your dining space an elegant modern look that's hard to replicate with other materials. They're also resistant to stains, which makes them easier to clean after meals.
Wood
Wood is a popular material used to construct tables. While the natural and organic appeal of wood can lend a classic look to any décor, it is important to understand the pros and cons associated with different types of table tops before making a purchase.
Solid wood is generally considered one of the most durable materials for constructing furniture, however, it can be susceptible to scratches and dents if not properly cared for. It is also subject to warping or cracking if exposed to excessive moisture or humidity levels. Additionally, solid wood tables often require more maintenance than other materials due to their need for refinishing and staining to maintain their original appearance.
On the other hand, engineered wood tops are often less expensive but still quite durable when compared with solid wood options.
Glass
Glass is one of the most versatile materials used in home decor, and is a popular choice for table tops. With its sleek, modern look and easy-to-clean surface, it's no wonder that glass table tops remain popular today. But glass isn't the only material available when selecting a tabletop. The pros and cons of different tabletop materials should be considered before making a purchase decision.
Wood is one of the more traditional choices for tops due to its natural beauty and texture. However, wood can be difficult to keep clean, particularly if it has been stained or varnished – regular cleaning with mild soap and water is important to maintain its appearance. Marble is also an attractive option for tables; it has an elegant beauty and provides years of durability with proper care.
Marble
The Marble table tops are timeless and luxurious, making them an attractive choice for many homeowners. Marble is a natural material that can come in different colors, such as white and grey. Its unique swirls and veins make it a desirable option for furniture. But before you dive head first into purchasing marble, it's important to assess the pros and cons of this material.
One major advantage of marble is its durability. It is resistant to heat, which means hot plates or cups won't discolor the surface permanently. Marble is also scratch-resistant when properly maintained with sealants and cleaners.
Stone
Stone is a popular choice for tops, as it can provide an elegant and sophisticated finish to any furniture. With so many different types of stone available, it can be difficult to decide which one best suits your needs.
Granite is a strong material that is scratch and heat-resistant, making it suitable for high-traffic areas. It's also easy to clean with just a wipe of a damp cloth. However, this natural stone can be quite expensive when compared to other materials and its weight makes moving pieces difficult.
Marble is another popular option that adds beauty and luxury without requiring much maintenance or upkeep. This type of stone also performs well in areas with higher temperatures. But it must be sealed regularly since marble has a porous surface that could become stained easily if not properly maintained.
Metal
Metal table tops are becoming increasingly popular due to their durability and unique aesthetic. However, there are a variety of types of metal tops that can be chosen from; each offering its pros and cons. Understanding the different types of materials available can help you make an informed decision when selecting a metal tabletop for your home or business.
Stainless steel is one of the more commonly used metals for tabletops as it is long-lasting and highly resistant to scratches, heat, and stains. Additionally, stainless steel is easy to clean with just soap and water. The downside to this material is that it tends to be expensive compared to other options on the market. Additionally, stainless steel will show fingerprints easily unless treated with a coating or special cleaner.
Aluminum is another popular choice for tabletops as it provides strength similar to steel but at a lower cost point.
Maintenance and Care of Table Tops
When it comes to protecting your investment in a dining room table, maintenance and care are essential. Proper tabletop care can keep your table looking new for years to come.
Protect the surface from food or drink spills as soon as they happen. Make sure to dry any liquid immediately with a soft cloth. Use coasters when placing items on top of the surface and avoid using harsh cleansers or abrasive materials when cleaning the tabletop. Instead use mild soap and water or specialized cleaners made specifically for wood furniture. If spills occur often, consider protecting the surface with placemats, or a runner. Orivets underneath hot dishes such as casseroles or roasting pans.
Here are some tips for that
Cleaning
Cleaning maintenance and care of table tops are important parts of keeping any room looking neat and tidy. Whether you're trying to make a good impression on visitors or just want your home to look inviting, clean tables are essential. It's easy to do with the right materials and supplies.
First, it's best to start with a gentle cleaner such as warm water with mild dish detergent or a specially formulated cleaner for tops. Be sure to follow the instructions for use carefully so that you don't damage the finish of your tabletop. Rinse off any excess cleaning solution from the surface before allowing it to air dry completely.
Protecting
Table tops are essential components of any modern home, providing a stylish and functional surface for everyday life. To ensure that table tops remain in optimal condition.
The first step to protecting any table top is to clean it regularly with a damp cloth and mild detergent. This will remove dirt, dust, and other contaminants before they can cause damage to the material.
To further protect a tabletop from scratches or wear and tear. It covers with placemats or coasters when food or drinks are placed on it. This will help prevent staining while also reducing the severity of any accidental spills that may occur.
Repairing
Tabletops are an integral part of everyday life, so it is important to maintain and care for them. Proper repair and maintenance techniques can help keep table tops in excellent condition over time. With a few simple steps, anyone can easily keep their table tops looking great.
First, inspect the surface of the tabletop regularly for any signs of wear or damage. If any cracks or chips appear, they should address immediately with sandpaper and wood putty to avoid further damage from occurring. When sanding down any areas that need repair, use fine-grit sandpaper for a smooth finish. Once the area has been repaired, apply a fresh coat of varnish to protect it from further wear or moisture damage in the future.
In addition to regular inspection and repairs as needed, general cleaning is also essential for keeping table tops in pristine condition over time.
The Final Thought
In conclusion, decorating your dining room table top with a unique and creative idea can be an easy and rewarding experience. Whether you choose to repurpose materials, create a seasonal centerpiece. Shop for something entirely new, there are endless possibilities when it comes to adding charm to your dining room. With some creativity and the right accessories, you can create an inviting and stylish space that will make every meal feel special.